Contents: Volume 2 - 2nd SUNDAY of ADVENT
Year C December 5th, 2021
---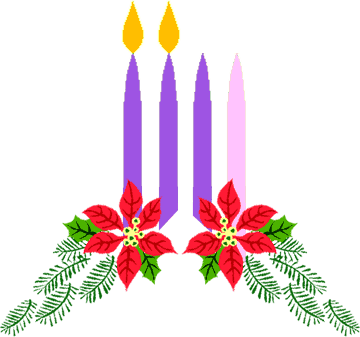 1. -- Lanie LeBlanc OP
2. -- Carol & Dennis Keller
3. -- Brian Gleeson CP
4. -- Your reflection can be here
5. -- (Your reflection can be here!)
*****************************************************
*****************************************************
Advent 2 C 2021
Times were stressful when today's readings were first shared and written down. They are stressful now as they are proclaimed and read once again. The message is still much needed and very clear: be hopeful because God's got this!
As Baruch wrote, we, too, are bone weary of mourning and misery, of injustice and fighting of every kind. The selection from the Gospel of Luke tells us through John the Baptist to prepare the way of the Lord. We need to be doing the deeds now that the One who is our salvation Incarnate will finalize.
So what shall we do this particular Advent Season to prepare the way of the Lord ? Before a serious mission of any kind, a wise first step is an inventory of sorts. Personally, where in our lives do each of us need to look, repent, and accept the forgiveness of our sins? We need to pray not only for those we love in Jesus as the letter to the Philippians suggests, but also for ourselves. We need to "discern what is of value" in this mission to "make rough ways smooth" for others as we prepare for and build the Kingdom of God. We need to pray with joy that the Lord has provided many partnerships to help us keep the faith and spread the true Gospel.
This Advent Season finds us still in the midst of this horrendous pandemic with restrictions coming and going along with feelings of hope and hopelessness. Re-reading today's Scriptures can reconnect us to our faithful God of Hope, to those from whom we feel distanced or for whom we long, and ourselves. Let us rejoice, even with tears of joy, that our God's got this!
Blessings,
Dr. Lanie LeBlanc OP
Southern Dominican Laity
******************************************************
******************************************************
Second Sunday of Advent December 5 2021
Baruch 5:1-9; Responsorial Psalm 126; Philippians 1:4-6 & 8-11; Gospel Acclamation Luke 3:4 & 6; Luke 3:1-6
For the last three Sundays, we have heard Jesus warning us again and again. There is a struggle going on in creation that impacts human living. In the method of apocalyptic literature, Jesus paints a picture of desperation, of struggle, of unrelenting violence and despotism. It is actually a more helpful thought to think of Jesus' words not so much as a warning but as an admonition to be real about what it means to live a just life. He sets expectations and takes off any rose-colored glasses that are more about wishful thinking than reality. We should not expect everything to be wine and roses. We are called to justice in a culture and a world whose standards of success have more to do with accumulation of power, wealth, and influence. It is more about cut-throat competition than it is about justice. Despite this focus on reality, Jesus insists there is ultimate success for those who live the Way. Success is more about what we become as persons than it is about winning in the skirmishes of daily living. We are not to fall into acting as though the Kingdom of God is already completed. The hope in is the message is based on God's presence. He says throughout faith driven history, "I am with you." This is the narrative history of the Mosaic Covenant and the New Covenant. It is always God speaking, "I am with you through it all."
Luke's gospel this Sunday insists the message of his gospel is real. It takes place in a time and place that people know. This is no fantasy; this is no mere dream; this is no fabrication in an effort to control people. That is often the basis for civil political encouragement of worship and ritual. Luke tells us this message is about God intervening in all time and place. This Sunday's story brings us to one who prepares us for God's message. This is what prophets do. This prophet is one whose message is to and about us. John, cousin to Jesus and son of Zechariah – a real person – is moved by the Word of God. He begins preaching to any who would listen. Soon crowds came from the cities to hear and learn from him. His words moved their hearts, and they were washed in a ritual that was a shedding of the dust and dirt of the ways of the world. The nation had been prepared for this prophet since the time of Moses and the liberation from Pharaoh. This time the message is not shouted at a pharaoh, not against the corruption of a Herod, not against the mighty armies of Alexander, and not against the oppression of Roman Legions. The message goes directly to the people. The Baptist shouts "repent!"
Was John shouting out about the commandments? Were the people steeped in promiscuity and abuse? Were the people disrespectful of parents? Were the people liars and thieves? What is John's meaning? What is his purpose? The word "repent" is a weak rendering of the Greek word Metanoia. Repent is most often thought of as avoidance of bad habits, terrible thoughts, violence. Metanoia is more about what is in one's heart. We think of love as residing and springing from the heart. St. Paul insists faith takes up residence in the heart and from there seeks God's way in mind and in action. It is from the heart that the mind takes its lead. It is the heart that is the source of relationships. Empty hearts hoard the worlds goods, perceives others as lesser than self because of different skin color, language, nationality, gender, social standing, and/or wealth. If the heart is bad, so is the character of that person.
What John shouts out to the curious crowds that come to him is a complicated message. It is not so much about individual sins, bad thoughts, actions that harm others. Even so these misconceived denials of what is true encourages injustice. John speaks to the crowds, warning them of the consequences of hearts that are empty caverns of echoing noise. The character of those unfortunates contains no treasure. When hatred conquers the heart, there is chaos, there is warfare, there is violence, there is manipulation of truth. So, John shouts to the people to change their hearts. Look to what is of God and treasure his creation. Turn your hearts around and see what is true.
What happens when communities have a change of heart? What happens to human existence when the hearts perceived every person and thing as an expression of God and of what God is? Ah, then the way, the rough goat path, becomes a superhighway, smooth and direct. The trail of the world gives way to expressways. Gorges and ravines are filled in or bridged, mountains are leveled or tunneled, rough ways are paved. Then the preaching of Baruch is realized. Family once far way come home from the east and the west, the north and the south. Then the city of Peace, that hoped for city Jerusalem, is adorned with festivals and celebrations. What separated us from our children is overcome. What terrorizes us and forces us to resort to violence is subdued. Then the Kingdom of God is revealed and lived. That is the goal. The way to that goal is begun with a change of heart. When the heart is opened to the Word made flesh, then comes a beginning of peace and joy.
This second Sunday of Advent urges us to clean the houses of our hearts. Truth, caring for others and creation, healing and positive relationships become possible.
Christmas in our hemisphere is about light. We have passed the shortest day of long darkness. The 21st day, the winter solstice is past, and the daylight time begins to grow. That is the time we celebrate the coming of a child who will lead us. In the light of this child who comes to birth as we did – this child who grows as we did – this adolescent who experienced its challenges – this young man who practiced a trade – this preacher who came to the Baptist not out of need for washing but out of need for confirmation of mission and to model for us: in that light we become what it is we were made for.
The responsorial psalm has two verses this Sunday that are clearly applicable. "Restore our fortunes, O Lord, like the torrents in the southern desert. Those who sow in tears shall reap rejoicing. Although they go forth weeping, carrying the seed to be sown, they shall come back rejoicing, carrying their sheaves." This Advent we begin the planting, committing to the soil of life what little we possess in the hopes of an uncertain harvest. As we turn away our hearts from what darkens our spirits, we will discover in the infant born in poverty the shepherd who brings hope to a troubled and violent world. When our hearts are right, ravines are filled, and mountains leveled. The rough way is made smooth, and the way is shaded by the wonder of fragrant trees lining our pathway through life. The struggle continues but is doable.
As the prophets and Jesus warn us; the way though life is a struggle. We are tempted to commit to the way of the world which leads to nothingness. The fruits of the way of the world are perishable and soon lost. The Way of the Christ provides us with treasures no one, no thing can ever steal from us.
This time of Advent is set aside to prepare, to sweep clean our houses, to examine the movements of our hearts. It is a time to turn around our spirits to the Creator who loves us with the immensity only God possesses. Let us sweep away any idolatry that resides in our hearts so as to make straight the Way of the Lord.
There is a common thought in all three readings this Sunday. That thought is carried by a single word, "justice." Justice is something we think of as belonging to civil society's courts. Culturally, there is a lack of trust in their outcomes. Expensive lawyers seem to find technicalities that free lawbreakers from receiving their due. The principle of justice is that persons – and creation – receives what is due it. There are at least three levels of this. The first is what is due a person because of what they are. All persons are due dignity because of the gift of life that gives them time and presence. The second is what is due them because of their presence in society. What is due each is a share in the common good of society. The third is what is due persons for the choices they make, the efforts they expend, and the associations they choose. God's acting justice is always for what is due his creation and especially the persons who uniquely reflect who and what God is.
Part of our house cleaning this advent has to do with justice and what is due others. There is a common theme in our culture that the poor are somehow undeserving of justice because they are lazy, are drunkards, are lacking in motivation, are just low-class people who should get a job. It has been a practice of our faith tradition going all the way back to the Hebrew nation during their 40 years of wandering in the desert that the poor are deserving of respect; that is their due. Society, and we are participants in society, often blame the poor for their plight. Their plight is not to be accepted because there is a faith concern regarding them. God favors the poor because the poor have no other resource for help. We blame the poor, we scapegoat the poor, for their lack of education, for their poor health because they lack access to quality health care, for how they dress, for the terrible dietary choices they seem to make. Justice that Baruch praises in the first reading this Sunday is that all persons, including the poor, receive their due. This is not an easy thought for we are accustomed to blaming the poor for their plight. Yet social systems continually work to keep the disadvantaged poor. Projects to provide what is due to each person is most often the project of faith-based groups.
This can easily be one of the ways in which we clean our house to make way for the coming of the Lord. Let us get beyond the culture and way of the world that judges and values those who conquer and accumulate. Let us work to get beyond appearances to the core of our faith.
Carol & Dennis Keller dkeller002@nc.rr.com
******************************************************
******************************************************
GOD IS COMING TO CHANGE US: 2ND SUNDAY OF ADVENT C
Baruch 5:1-9; Philippians 1:4-6, 8-11: Luke 3:1-6
When someone is brave enough or rude enough to point out something wrong with us, we may admit that it's true, but do nothing about it. Like the father who said to his daughter, 'we must have a little chat', to which she replied 'the only time we ever have a little chat is when you want to lecture me about something.'
We know from experience that admitting the truth doesn't force us to change our ways. When our self-esteem takes a big beating from the truth, the truth may paralyse us. We're too old, we think, or too set in our ways to be born again as a better person. Not now, we think, or at least not yet. Just like St Augustine who once prayed to God: 'Give me chastity, but not yet.' But that was before he changed his ways completely for the better!
In today's readings, four messengers of God encourage us to imagine that better future that God intends for us, and to live and act accordingly. Thus, the prophet Baruch assures people that God has not forgotten them. So, he urges them to swap their garments of sorrow and distress for the cloak of God's goodness and integrity. The psalmist asks people to imagine a time when they will be exiles and slaves no longer, but go back home with joy, carrying the sheaves of grain they harvest along the way. In his letter to the Philippians, Paul praises them for how they have helped him in his work, and urges them to prepare for the day 'when you will reach the perfect goodness' that Jesus will produce in them. Finally, John the Baptist urges his hearers to 'prepare a way for the Lord', and get ready for the days when all human beings will finally 'see the salvation of God.'
Notice that none of those four speakers confronts the people with the bare, unvarnished truth of what's wrong with them. Each messenger speaks a message of hope, encouragement, and affirmation. 'The times they are a-changing,' they say. God is nearby, and is coming to change things, is coming to give you a brand-new start. 'So, seize the day,' God's messengers say, 'that brand-new day that God is offering you now. You can do it because your God is right beside you.'
So, all our Readings today share this wonderful insight: - We begin to change when others encourage us to see the best in ourselves, not when we are urged to dwell on the worst in ourselves. Simply telling people what's wrong with them may leave them a train-wreck - feeling helpless, hopeless, and isolated, and with no one to care whether they change or not. If we are to leave behind our bad and hurtful ways, we don't need someone pouring poison and vitriol onto our wounds. We need acceptance and encouragement, to imagine ourselves differently, and to imagine the good influence we will have on others when we become better persons ourselves. So, we need to reflect on what kind of person God wants us to be. We also need greater faith in the power and love of God working in us to change us into the best people we can be. We also need to go on believing with Paul, then, 'that the One who began this good work in you will see that it is finished'.
In our life project of becoming the best persons we can be, we need others to keep spurring us on, to keep urging us with the message, 'Go on! You can do it!' Just like the apostle Paul did with the people in his life. He was a 'wounded healer' himself, and had to make big changes in his own performance. The people he mixed with gave him so much encouragement and support that he became both a great human being and a great friend of Jesus. Not all at once, I might add, but gradually - one step at a time, slowly but surely!
'How the mighty have fallen!' we sometimes hear. That's certainly what we heard a while back about the world's greatest golfer then - Tiger Woods. But to his credit, he owned up and took responsibility for what he called his 'transgressions'. He also spoke clearly of his determination to change: 'I will strive to be a better person,' he wrote on his website, 'and the husband and father my family deserves.'
If our parish community is to be constantly converted to Christ, all of us have to both breathe in encouragement from others and breathe out encouragement to them. In our determination to become the best persons we can be, it may help to remember those famous words of Saint John Henry Newman: 'To be human is to change. To be perfect is to have changed often.'
May the passion of Jesus Christ and his everlasting love be always in our hearts!
"Brian Gleeson CP" <bgleesoncp@gmail.com>
******************************************************
4.
******************************************************
******************************************************
******************************************************
Volume 2 is for you. Your thoughts, reflections, and insights on the next Sundays readings can influence the preaching you hear. Send them to preacherexchange@att.net. Deadline is Wednesday Noon. Include your Name, and Email Address.
-- Fr. John Boll, OP
---
-- ABOUT DONATIONS --
If you would like to support this ministry, please send tax deductible contributions to Fr. Jude Siciliano, OP.
Make checks payable to: Dominican Friars.
St. Albert Priory, 3150 Vince Hagan Drive, Irving, Texas 75062-4736
Or, go to our webpage to make an online donation: https://preacherexchange.com/donations.htm
-- REGULAR INFORMATION ---
To UN-subscribe or Subscribe, email "Fr. John J. Boll, OP." <preacherexchange@att.net>
-- WEB PAGE ACCESS --
-- Go to http://www.preacherexchange.com Where you will find "Preachers' Exchange," which includes "First Impressions" and "Homilías Dominicales," as well as articles, book reviews and quotes pertinent to preaching.
-- Also "Daily Reflections" and "Daily Bread." and many other resources.
A service of The Order of Preachers, The Dominicans.
Province of St. Martin De Porres
(Southern Dominican Province, USA)
P.O. Box 8129, New Orleans, LA 70182
(504) 837-2129 ● Fax (504) 837-6604
(form revised 2020-09-23)
---
We keep up to six articles in this archive. The latest is always listed first.