Contents: Volume 2 - The Sixth Sunday of EASTER
M
ay 26, 2019
---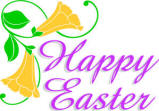 1. -- Lanie LeBlanc OP
2. -- Carol & Dennis Keller
3. -- Brian Gleeson CP
4. --
5. --(Your reflection can be here!)
*****************************************************
*****************************************************
6th Sunday of Easter
Our Gospel reading this Sunday tells us of the importance of keeping the Lord's word, of the promise of the Holy Spirit, and the giving of the Gift of Peace. We certainly need to hear about all three of these matters once again in our present times. Right now, I think Jesus's notion of Peace and its true meaning might lift our spirits from the turmoil that often bombards our lives.
Our first reading from the Acts of the Apostles tells us about some rule oriented problems within the early Church. We have plenty of those within Mother Church as well as in our local parishes and even, perhaps, our families. It seems that our issues today can not be solved by a simple meeting, but rather by a more gradual listening to the Holy Spirit who continues to guide the laity, the religious, and the clergy. Let us remember that it is because of the guidance of the Holy Spirit, not of any human being, that our Church even still exists!
Jesus tells us "Do not let your hearts be troubled or afraid." I sure wish I remembered to think of that when I was sitting in my cardiologist's waiting room yesterday to find out some test results! Although the report was a good one, it reminds me today that each of us has a long list of "troubling" things that affect us.
How such things affect us must connect to Jesus's Gift of Peace. Peace does not mean that all things are exactly as we would like them to be. Peace does not mean that no one is arguing or fighting.
Jesus told us that his kind of Peace is very different from the peace that the world gives. I think that Jesus's Peace is the reassurance that he accompanies us on each and every step of our journey to support us and be with us... but, not necessarily, to rescue us from the pain or hardships along the way.
Jesus's Peace overrides the momentary kind that makes us feel good just when good things happen. His is the continual grounding of our faith in grace and hope. It is an inner serenity that is still felt through tears.
We are called to follow Jesus's words by our Baptism. Where in our day can we see examples of the true Peace of Jesus? Where in our day can we bring a little bit more of this "blessed assurance", not the pollyanna kind, but the deep rooted kind, into the troubled times we feel and see?
How these things are accomplished is no easy task. It is, again, the work of the Holy Spirit! Come, Holy Spirit, show us the way!
Blessings,
Dr. Lanie LeBlanc OP
Southern Dominican Laity
******************************************************
******************************************************
Sixth Sunday of Easter May 26 2019
Acts of the Apostles 15: 1-2 & 22-29; Responsorial Psalm 67; Revelation 21:10-14 & 22-23; Gospel Acclamation John 14:23; John 14:22-29
It striving to live the life of a good person, we begin and often end thinking of ourselves as good because we stay within the confines of a canon of commandments, regulations, and obligations. How often we hear and/or read of Holy Days of Obligation. We know of persons, maybe children, maybe brothers/sisters, maybe neighbors, or maybe close friends who seem to have fallen away from regular obligations. Lenten fasts and days of abstinence seem to have lost their imperative. Holy Days of obligation often slip by and attendance in the assembly at the liturgy of the Word and the Eucharist slid by without a thought. It's just that obligations don't motivate us to action. Our culture doesn't punish religious inaction.
Even in the civil world voting becomes important typically only when we have a candidate or a cherished issue in the race. The obligation to be attentive to the direction of government and government's concerns dissipates. Laws, taxation, and concerns about the quality of life are issues arising from emotionally charged snippets expresses in three second sound bites. Partisan causes are the catch of the day and tomorrow are replaced by new items on the menu. We hear of officials claiming their state's belief in the sanctity of life when it comes to the unborn but on the same day as a signing of a controversial law executes a person. Implication is that only certain lives are sacred to the people. We hear of an administration that encourages and politically manipulates for the unborn but allows children escaping from horrific conditions in nations in which our historical interventions encouraged authoritarian corruption – we imprison those children in less than third world conditions and they lose their lives or their sense of personal dignity in cages constructed to prove a point. All human life is sacred or no human life is sacred. The belief that all persons are created equal with divinely granted right to life, liberty, and the pursuit of happiness are submerged in laws and processes of repression and terror. Citizens become less concerned about the rightness or wrongness of a policy/practice than about a partisan allegiance.
What we experience is certainly nothing new. In the first reading this Sunday, we hear of the fight between the obligations of the Law of Moses that all males be circumcised. Most of the Apostles rejected the idea that the law of circumcision should apply to the Gentiles. There was persecution, there was anger, and there was clearly – in some circumstances – violence. Yet what was the point? What did the law of circumcision have to do with the Christ, with the new and final age of God's creative energy?
The Apostles claim to be inspired by the Spirit. The understanding of God as a Trinity of three – The Father Creator who created by his Word; the Word through whom all that was created came into being as an expression of what God is; and the Spirit who came from the interchange between the Father – the Speaker – and the Son – that which was spoken. It was the Spirit they blamed for their decision. They listened and prayed and fasted to come to the way forward. We should note how they expressed their decision. "It is the decision of the Holy Spirit and of us not to place on you any burden beyond these necessities…." There was no effort in this early collegial decision guided by the Holy Spirit to place any further burden than to abstain from the worship of the pagans: to avoid consumption of blood: to avoid meat from strangled animals: and to reject unlawful marriages.
In some ways over the twenty centuries of Christian experience we've placed many burdens on our people. We've come to view law as a way of directing the religious growth of the faithful. The role of the liturgies of the sacraments is to encourage our growth in love of God and neighbor. Those liturgies impact and change and strengthen us to grow in the love of our communities and our God. But we often fall into depending on "thou shalts" and "thou shalt nots." We've subverted the very simple yet expansive teaching of Jesus about keeping his Word because of the love we have for him. In place we've used our intelligence to slice and dice his Word into sets of rules and regulations. Over time those rules and regulations, those obligations take the place of love. We've become the poorer for it.
A couple of years ago I attended the final preparation class of my grandson's first communion class. The deacon spoke of the obligation of receiving the Eucharist on Easter Sunday. Well, that's not quite correct. Canon law states that the faithful are to receive communion at least once a year during Eastertide. That's quite different than cramming that obligation into the one Sunday of Easter. Eastertide is from Easter through the vigil of Pentecost. But what caused me most concern was this well intentioned deacon telling these seven year olds this. Now that they received communion they had the obligation to attend Mass every Sunday. Okay; perhaps it was age-appropriate to speak about obligation. Would it not have been better to speak about the wonder of hearing the Word of God proclaimed and explained? Would it not have been more effective to speak about the reception of the Eucharist as bringing all who partook into the one Mystical Body of Christ? But his next words were most disturbing. He acknowledged that these children needed parents to bring them to Mass. If they didn't the parents were committing two mortal sins. The first was their not attending Mass themselves. And the second that they caused their children to miss Mass and so added to that first mortal sin. He planted an image in the minds of these seven year olds of their parents burning in hell. The satisfaction of an obligation was the first order and more important than coming to share in the love of God extended to us in community.
When we gloss over the motivation of our moral choices by a blind response to a law, a regulation, or even a ritual, we miss the point. In effect we fail to love. Paul insists that the law can only condemn us. It adds nothing to our growth in the love of God. It is not even a minimum requirement. At best the law is a starting point for instruction and explanation of the love of God for us.
Many of us parents and grandparents grieve over the seemingly loss of faith by our children and their children. Unlike in the Middle Ages, there is no social punishment for failing to attend. In the last century Pius X and Pius XII focused much attention on revitalizing the liturgy. The liturgy includes all the sacraments. After Vatican II, Paul VI agonized over how the church would re-engage the faithful in participating in the liturgy. The liturgy, understood more clearly after Vatican II, is truly the work of the people. Our bishop teaches that it is improper to speak of the priest as the celebrant at Mass. The priest is the presider; the people celebrate the Mass. Perhaps if we were to focus less on legal issues and more on issues of the heart we might expose the depth and wonder of our worship. In itself this would attract and reclaim the faithful who find rituals empty and without insight or inspiration.
Our world is once again in a terrifying mess. Many nations are reverting to authoritarian strong men in leadership. The common good of people is subverted to the pursuit of power, wealth, and influence. Violence is sure to follow such a turn in history. It is only when we overcome corruption that is the result of the worship of power and wealth that we can arrive at the peace of the Christ. It is only when our liturgies – all liturgies – teach us of the wonder of God's continual creative presence that we will find place in our hearts for all persons.
Technology has allowed us to become citizens of the entire world. In moments we can learn of the plight of others. Gentiles or Jews, Muslim or Christian, Hindu or Buddhists: all seek the peace and unity with the source of life. We Christians call that God and we think of God as three persons bound in community by an unconditional love. And we recognize that that love is God's life. If we wish for, work for, and long for eternal life that begins now in time and extends into eternity, then we must find within our hearts a love that grows for each other and for all of God's creation. That is the work of the liturgy. For all of liturgy has as its purpose healing, growth, and unification of all in the unity that is itself the life of God.
The answer to evil is love. Only love can conquer the darkness of the human heart. Let's work at it first in our families, then in our church community, then in our neighborhoods, then in our nation, and finally in our world. It's God's way of creating and offering possibilities.
The reading this Sunday from Revelation describes the earth as the new Jerusalem in which there is no sun. It is illuminated by the presence of God. Its walls and gates and streets and buildings are great jewels of brilliant luster. This is the result of God's love practiced and experienced in all of creation. It is our destiny and our goal.
Carol & Dennis Keller dkeller002@nc.rr.com
******************************************************
******************************************************
THE LOVE WE NEED: 5TH SUNDAY OF EASTER C
Some people say they don't read newspapers anymore because there's too much bad news in them. They have a point. A while back e,g, a natonal newspaper ran stories about footballers knowingly or unknowingly taking banned performance-enhancing substances; a pedestrian killed by a hit-run driver; the drug cocaine being extracted from items of clothing to be sold for a fortune; a factory collapsing in Bangladesh and killing two hundred and seventy-three persons; the Boston bombers said to have been planning mayhem in New York City, and at least hundreds and thousand of persons killed in Syria's civil war. News like that may well turn people off reading their newspapers.
Thank God such bad news is not all the news there is! On its front page a while back the same paper ran a story about Eugene ('Curly') Veith, a rich man and a Christian, aged 94. As business prospered, Curly says that he 'used to lie awake at night thinking of the hungry and homeless children all over the world. So I decided to give all my money away to help them!' About $23 million so far! Mr Veith has set up Mission Enterprise Limited to channel funds to worthy causes everywhere - American Indians in Colorado, street kids in Bangkok, water wells in East Africa, land for a school in Queensland.
More than that, with the courage of his convictions about doing good, he has been going to other rich businessmen and businesswomen and challenging them to give generously to people and projects in need. Clearly this old gentleman has taken strongly to heart today's message of Jesus to his friends and followers the night before he died for them: 'I give you a new commandment: love one another; just as I have loved you, you must also love one another. By this love you have for one another, everyone will know that you are my disciples.'
At an isolated roadhouse in North West Queensland, two children aged eight and six tell a visiting traveller about a play they have put on at their local church. They have teamed up with a friend to dramatize how Jesus wants us to love one another. The first child gets a phone call from Jesus to say he will be coming along that day and will want some help. The two children are to keep a lookout for him. Well, Jesus turns up in the guise of the third child who has hurt her knee and is looking for some first aid. One of the first two reaches out to help and asks the second who is talking to Jesus on the phone to also help. She says she is too busy talking to Jesus, and is still waiting for him to arrive. But in the end she too goes to help the injured one. At the end of the day she receives another phone call from Jesus. He thanks her for helping him. She says she doesn't understand. She waited and waited for him, she points out, but he didn't turn up. Then Jesus explains that he did come after all, in the form of the child that needed help.
That's the wonderful thing about the kind of love that Jesus wants of us. It's a love modelled on his kind of love. He showed his love for people in so many wonderful ways – in kindness, compassion, generosity, patience, perseverance, endurance, faithfulness and forgiveness. There was no limit to what his love would give or where it would go.
The love which imitates the love of Jesus for others is therefore a practical, down-to-earth kind of love. It's a kindness and compassion kind of love, a self-forgetting kind of love. It's a self-sacrificing kind of love even to the point, as shown by so many brave soldiers in two World Wars, of giving up their own lives so that others might be free - free to be good, kind, unselfish, generous and loving persons too.
It's our love for others that keeps the great love of Jesus for people alive in our world today. An American journalist, watching Mother Teresa caring for a man with gangrene, remarked to her: 'I wouldn't do that for a million dollars.' Mother Teresa replied: 'Even I wouldn't do it for that amount, but I do it for love of God.'
True love is the opposite of selfishness. Selfishness confines us, keeps us shut in. It builds barriers, even walls, between us and others. What frees us is caring about others and caring for others, being friends, being sisters and brothers, being good neighbours. In short, it's love alone that frees us from the cage of selfishness. A doctor, who has shared some of the deepest moments in the lives of many patients, says that people facing death don't think about the degrees they've earned, the positions they've held, or how much wealth they've amassed. What really matters at the end is whom you have loved and who has loved you.
Love always demands the best from us, and brings out the best in us. Being loved gives us a surprising energy and courage. Love makes us fruitful, productive, strong and constant in doing good. Elizabeth Kubler-Ross, famous for her work on the stages of dying, has written: 'Love is the flame that warms our soul, energises our spirit and supplies passion to our lives. It's our connection to God and to one another.'
To love is to heal, both those who receive it and those who give it. To refuse to love is to die. To decide to love is to live. But love is a choice, not a feeling, and when we choose to be loving, caring, healing, helping, and forgiving persons, we experience well-being, contentment and happiness.
Freedom from selfishness and freedom to love and care for others, surely that's what life is all about! There's really no other way. So Jesus insists, strongly insists: 'Love one another, as I have loved you.'
"Brian Gleeson CP" <bgleesoncp@gmail.com>
******************************************************
4.
******************************************************
******************************************************
******************************************************
Volume 2 is for you. Your thoughts, reflections, and insights on the next Sundays readings can influence the preaching you hear. Send them to preacherexchange@att.net. Deadline is Wednesday Noon. Include your Name, and Email Address.
-- Fr. John

---
-- ABOUT DONATIONS --
If you would like to support this ministry, please send tax deductible contributions to Jude Siciliano, O.P.,
Make checks payable to: Dominican Friars.
St. Albert Priory, 3150 Vince Hagan Drive, Irving, Texas 75062-4736
Or, go to our webpage to make an online donation: http://preacherexchange.com/donations.htm
-- REGULAR INFORMATION ---
To UN-subscribe or Subscribe, email "Fr. John J. Boll, O.P." <preacherexchange@att.net>
-- WEB PAGE ACCESS --
-- Go to http://www.preacherexchange.com Where you will find "Preachers' Exchange," which includes "First Impressions" and "Homilías Dominicales," as well as articles, book reviews and quotes pertinent to preaching.
-- Also "Daily Reflections" and "Daily Bread." and many other resources.
A service of The Order of Preachers, The Dominicans.
Southern Dominican Province, USA
1421 N. Causeway Blvd., Suite 200 Metairie, LA. 70001-4144
(504)837-2129 Fax (504)837-6604
---
We keep up to six articles in this archive. The latest is always listed first.