Contents: Volume 2 - Fifth Sunday of EASTER
M
ay 19, 2019
---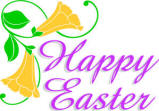 1. -- Lanie LeBlanc OP
2. -- Carol & Dennis Keller
3. -- Brian Gleeson CP
4. --
5. --(Your reflection can be here!)
*****************************************************
*****************************************************
5th Sunday of Easter
Our three readings today have three important messages. The first one from Acts tells us that God works through his people to spread the knowledge and love of Jesus. The reading from the Book of Revelations tells us that God can make all things new. Our Gospel selection according to John reminds us of the commandment to love one another.
The first message is fairly simple although perhaps, taken too much for granted. It is pretty awesome that a very small band of disciples of long ago have spread the message of Jesus to over 2 billion people who profess to be Christians today. The path was certainly arduous and, because of conquests, divisions, and wars, not always in the true spirit of Jesus . The Holy Spirit's guidance to all of the disciples, past and present, however, continues. WE should be grateful! The people of God, for the most part, are still committed to the third message from our readings, that is, to love one another.
What does love look like? Well, we can count the ways but it seems that love must include kindness, respect, and the well -being of another. It is sometimes easy to throw around the word "love" in conversation but a bit daunting to ask ourselves about the quality of the relationships that we have.
Here comes that second message, the one we all need repeatedly in our lives! It is God, not us, who makes all things new. If it is love that identifies us as Christians, then love is where we must begin our scrutiny. Whether personal, familial, neighborly, collegial, or ministerial, we must ask: is our interaction with others authentic? Is it based in the kind of love that Jesus modeled for us? If not, we need to ask God to "make it new" in our lives.
That task may be a difficult one but the first step is surely to give time and attention to the problem and the person. Jesus ALWAYS did that, busy or not, tired or not, every day, all day, sometimes well into the night. We often fall well short of that ideal.
Fr. Greg Boyle SJ, founder of Homeboy Industries, recently spoke at our parish. He talked about an "exhausted" God, the one who continually loves us, (my words: no matter what). His talk and books tell how he brings the message of Jesus to gang members so successfully. Fr. G was wonderfully humorous but incredibly profound in the way he and these unlikely but authentic now Christian gang members reminded us how expansive and unconditional God's love is... and how we are continually invited to embrace it and share it.
If we are to mirror God's love to one another, another good place to start would be a slow read of Fr. G's books. I'm planning a second read through of the two I've read to enlarge my own view of God and the people he loves. Although the God I love and who loves me is magnificent in so many ways, the God I envision is still too small compared to Who God is.
Blessings,
Dr. Lanie LeBlanc OP
Southern Dominican Laity
******************************************************
******************************************************
Fifth Sunday of Easter May 19 2019
Acts 14:21-27; Responsorial Psalm 148; Revelation 21:1-5; Gospel Acclamation John 13:14; John 13:31-33 & 34-35
There continues, in our Scripture readings this Sunday, the hope-filled message that began with Easter Vigil. Paul and Barnabas return to cities where the good news of anointing of Jesus as the Christ has found acceptance. All of creation has found a new footing. In their return to the cities of Lystra, Iconium, and Antioch they found good ground on which to build. Their message to the disciples in these cities was simple. "It is necessary to undergo many hardships to enter the Kingdom of God." Talk about pouring cold water on hearts soaring with the good news! Were we to listen closely to these words and apply them to our times we would realize much of what is happening in our world. If we stand up for the gospel of Jesus: if we listen to his words of compassion and mercy: if we understand that his message is about how to live in the Life of God: if we hear the message of Jesus' healings and loosing from addiction and Satan: then we'll better participate in the joy and enthusiasm of those first Christians. Over and over and over yet again, the message comes clear. It's about love, about concern for the welfare of each and every person and clearly of all of God's creation. That's easy to understand. However, we should take to heard Paul's and Barnabas's message. "It is necessary to undergo many hardships to enter the Kingdom of God."
The second reading makes it clear what "entering the Kingdom of God" is. The Book of Revelation is all about the hardships of living in a world gone mad, flooded with violence, governed by self-serving narcissists. The welfare of all persons and all creation is crushed in the continual and persistent power of those who seek their own benefit over and against the benefit and welfare of all people. It is the way of the world to abuse persons and creation itself to capture and control power, wealth, and influence. The Book of Revelation was written as a promise of God's ultimate triumph. The new heaven and the new earth promised in this Sunday's reading from Revelation is about the final victory of the Way of Christ, the final reign of God within his creation, the fulfillment of God's dream for what began as a big bang and has evolved into the presence of God and an offering of a sharing in the very life of God for all persons, living beings, and even the earth and its elements. The Kingdom of God is all that. However, it is most difficult for us to accept that. The Way of the World is so very persistent that we easily become infatuated with the acquisition of power for our own selves. Controlling the magnificent resources and the wealth derived from those resources becomes the focus of our efforts and our struggles. Against this focus comes the experience of humanity over hundreds of centuries. That experience is contained in the first eleven chapters of Genesis. The message there is that all of creation is good. And it is humanity that is charged with the responsibility of caring for it. God gave dominion over all creation to humanity. Most often this "dominion" has come to mean, "doing with creation and with fellow humans" whatever is in my best interest for the acquisition of power, wealth, and influence. Taken to the extreme this means as well the total annihilation of millions of species, the rape of the earth, and the denial of dignity and worth – denial of the image and likeness of God – that is the gift of God to human life. How contrary to the message of the apostles: how much a very denial of the message of Paul and Barnabas to those first cities to hear of the Good News!
The Easter message over the centuries has often focused on a message to the slain Lamb. "Awake oh sleeper!" In the resurrection of Jesus, he was anointed as the Christ. He is truly the anointed one. His message is the depth of the message of what it means to be his follower. His promise is a promise of eternal life. Only God has eternal life. Thus Christ's promise is the promise that we who follow the Lamb's way, the Suffering Servant's commitment, the way of teaching, of healing, and of loosing those held captive: those who follow in that way will come to live not only with the great of gift of life but will live with the very life of the God of life. Perhaps such an understanding is a reach too far for us. Perhaps we don't have a clue what this means.
It is in the short gospel that we should learn what this means. Note, it was after Judas left to execute his evil plan for the price of a man – thirty pieces of silver – that Jesus speaks about the achievement of his mission. He is about to complete and fulfill his assignment, the assignment of the Trinity which is the promise of eternal living. His final message to those who would take on his assignment to creation is a new commandment.
A NEW COMMANDMENT? There is nothing new about loving one's neighbor as one's self. That message is the message of the commandments received by Moses. It is clearly one that the Jewish people knew about and struggled to live. What is so new about loving God about all things and your neighbor as oneself?
That is the question answered by Jesus in John's gospel this Sunday. "I give you a new commandment: love one another. As I have loved you, so you also should love one another." As I have loved you. That is the newness of this command of Jesus who is about to be glorified by his cross and his resurrection. As I have loved you! That is the difference. The Moses command to love God above all things and your neighbor as yourself – we understand that. But to love one another as Jesus loves us – that is different. That is a new commandment and one that we will struggle to achieve. Think back to Paul's and Barnabas' message this Sunday. "It is necessary to undergo many hardships to enter the Kingdom of God." Their message indicates how it is that we come to live God's life, the only eternal life there is. Loving one another and what God has created as Jesus, the Son of God loves us and it, is not an easy love. It is a love that finds our glory in sacrifice for others. Only when we come to love one another as Jesus loved us can we find that glory of living God's life.
Think about this as we view our world. We are teetering again on the brink of an unwinnable war. We reject and deny dignity to those who must flee their homelands for reasons of safety and dignity. We tear open the earth and destroy elements of God's creation for what we deem to be progress. We deny right to life not only to the unborn but also to those already born. We parse and chop up our thinking and fail to apply this command of Jesus. It's not an easy command. But then we've been warned, "it is necessary to undergo many hardships to enter the Kingdom of God."
In our time – not unlike the times before ours – we believe it's not practical to "love as I have loved you." As a result we shy away from living a life in community with others near us and upon whom we depend and who depend on us. We give way to expediency and practicality. We have been seduced into thinking the way of the world is where we'll find security, meaning, and happiness. Let's consider just where that has led us. Let us consider what happens when we love others as Jesus loves us. When we achieve such an awareness and commitment we enter into the new heaven and the new earth. Would that we had the courage and faith to do so!
It seems a mission impossible for us. That's why we are created in time. The two gifts of time and freedom allow us to grow into the Love of the Christ. As we grow and mature as persons we have the possibility of choosing to live the life of the Christ. If we think it's a once-and-done decision we're fooling ourselves. That is why Paul and Barnabas returned to the cities where there were disciples who began their way to living the love of the Christ. We grow in the Way of the Christ by the decisions we make each day. Human life since the Christ has new meaning and purpose – that we should grow into the Love of the Christ. And it is really a simple truth. If we aspire to the eternal life promised by Jesus, we will begin to live and to work on living as Jesus lived for us. That's a tall order. But we have been promised an advocate, one who will inspire us, lead us, and enlighten us on our Way into the Way of Jesus. Soon we will celebrate the outpouring of that Spirit on all of creation. Come Holy Spirit, fill the hearts of your faithful and enkindle in us the fire of your love!
Carol & Dennis Keller dkeller002@nc.rr.com
******************************************************
******************************************************
THE LOVE WE NEED: 5TH SUNDAY OF EASTER C
Some people say they don't read newspapers anymore because there's too much bad news in them. They have a point. A while back e,g, a natonal newspaper ran stories about footballers knowingly or unknowingly taking banned performance-enhancing substances; a pedestrian killed by a hit-run driver; the drug cocaine being extracted from items of clothing to be sold for a fortune; a factory collapsing in Bangladesh and killing two hundred and seventy-three persons; the Boston bombers said to have been planning mayhem in New York City, and at least hundreds and thousand of persons killed in Syria's civil war. News like that may well turn people off reading their newspapers.
Thank God such bad news is not all the news there is! On its front page a while back the same paper ran a story about Eugene ('Curly') Veith, a rich man and a Christian, aged 94. As business prospered, Curly says that he 'used to lie awake at night thinking of the hungry and homeless children all over the world. So I decided to give all my money away to help them!' About $23 million so far! Mr Veith has set up Mission Enterprise Limited to channel funds to worthy causes everywhere - American Indians in Colorado, street kids in Bangkok, water wells in East Africa, land for a school in Queensland.
More than that, with the courage of his convictions about doing good, he has been going to other rich businessmen and businesswomen and challenging them to give generously to people and projects in need. Clearly this old gentleman has taken strongly to heart today's message of Jesus to his friends and followers the night before he died for them: 'I give you a new commandment: love one another; just as I have loved you, you must also love one another. By this love you have for one another, everyone will know that you are my disciples.'
At an isolated roadhouse in North West Queensland, two children aged eight and six tell a visiting traveller about a play they have put on at their local church. They have teamed up with a friend to dramatize how Jesus wants us to love one another. The first child gets a phone call from Jesus to say he will be coming along that day and will want some help. The two children are to keep a lookout for him. Well, Jesus turns up in the guise of the third child who has hurt her knee and is looking for some first aid. One of the first two reaches out to help and asks the second who is talking to Jesus on the phone to also help. She says she is too busy talking to Jesus, and is still waiting for him to arrive. But in the end she too goes to help the injured one. At the end of the day she receives another phone call from Jesus. He thanks her for helping him. She says she doesn't understand. She waited and waited for him, she points out, but he didn't turn up. Then Jesus explains that he did come after all, in the form of the child that needed help.
That's the wonderful thing about the kind of love that Jesus wants of us. It's a love modelled on his kind of love. He showed his love for people in so many wonderful ways – in kindness, compassion, generosity, patience, perseverance, endurance, faithfulness and forgiveness. There was no limit to what his love would give or where it would go.
The love which imitates the love of Jesus for others is therefore a practical, down-to-earth kind of love. It's a kindness and compassion kind of love, a self-forgetting kind of love. It's a self-sacrificing kind of love even to the point, as shown by so many brave soldiers in two World Wars, of giving up their own lives so that others might be free - free to be good, kind, unselfish, generous and loving persons too.
It's our love for others that keeps the great love of Jesus for people alive in our world today. An American journalist, watching Mother Teresa caring for a man with gangrene, remarked to her: 'I wouldn't do that for a million dollars.' Mother Teresa replied: 'Even I wouldn't do it for that amount, but I do it for love of God.'
True love is the opposite of selfishness. Selfishness confines us, keeps us shut in. It builds barriers, even walls, between us and others. What frees us is caring about others and caring for others, being friends, being sisters and brothers, being good neighbours. In short, it's love alone that frees us from the cage of selfishness. A doctor, who has shared some of the deepest moments in the lives of many patients, says that people facing death don't think about the degrees they've earned, the positions they've held, or how much wealth they've amassed. What really matters at the end is whom you have loved and who has loved you.
Love always demands the best from us, and brings out the best in us. Being loved gives us a surprising energy and courage. Love makes us fruitful, productive, strong and constant in doing good. Elizabeth Kubler-Ross, famous for her work on the stages of dying, has written: 'Love is the flame that warms our soul, energises our spirit and supplies passion to our lives. It's our connection to God and to one another.'
To love is to heal, both those who receive it and those who give it. To refuse to love is to die. To decide to love is to live. But love is a choice, not a feeling, and when we choose to be loving, caring, healing, helping, and forgiving persons, we experience well-being, contentment and happiness.
Freedom from selfishness and freedom to love and care for others, surely that's what life is all about! There's really no other way. So Jesus insists, strongly insists: 'Love one another, as I have loved you.'
"Brian Gleeson CP" <bgleesoncp@gmail.com>
******************************************************
4.
******************************************************
******************************************************
******************************************************
Volume 2 is for you. Your thoughts, reflections, and insights on the next Sundays readings can influence the preaching you hear. Send them to preacherexchange@att.net. Deadline is Wednesday Noon. Include your Name, and Email Address.
-- Fr. John
---
-- ABOUT DONATIONS --
If you would like to support this ministry, please send tax deductible contributions to Jude Siciliano, O.P.,
Make checks payable to: Dominican Friars.
St. Albert Priory, 3150 Vince Hagan Drive, Irving, Texas 75062-4736
Or, go to our webpage to make an online donation: http://preacherexchange.com/donations.htm
-- REGULAR INFORMATION ---
To UN-subscribe or Subscribe, email "Fr. John J. Boll, O.P." <preacherexchange@att.net>
-- WEB PAGE ACCESS --
-- Go to http://www.preacherexchange.com Where you will find "Preachers' Exchange," which includes "First Impressions" and "Homilías Dominicales," as well as articles, book reviews and quotes pertinent to preaching.
-- Also "Daily Reflections" and "Daily Bread." and many other resources.
A service of The Order of Preachers, The Dominicans.
Southern Dominican Province, USA
1421 N. Causeway Blvd., Suite 200 Metairie, LA. 70001-4144
(504)837-2129 Fax (504)837-6604
---
We keep up to six articles in this archive. The latest is always listed first.