Contents: Volume 2 - Fourth Sunday of EASTER
M
ay 12, 2019
---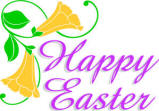 1. -- Lanie LeBlanc OP
2. -- Carol & Dennis Keller
3. -- Brian Gleeson CP
4. --
5. --(Your reflection can be here!)
*****************************************************
*****************************************************
4th Sunday of Easter C
The Gospel according to John this week is very short but also very poignant. "Jesus said: "My sheep hear my voice; I know them, and they follow me." Jesus gives us those three simple guidelines for our spiritual life, important things that will lead us through this often hazardous journey.
In today's world, it is quite a task to find just a bit of quiet so we can actually hear anything. Our lives are FULL with just plain noise, but also reasonable requests from people, things to which we should pay attention, and, of course, the not-so-silent pull of every kind of technology often with its bells and whistles, literally and figuratively. It really does seem that everything clamors for our attention.
So how do we, modern sheep, make the time to even hear Jesus, let alone really listen to him. Two things immediately pop into my mind. These are things that were hard and fast habits in my younger adult years but which need to be reclaimed or refigured in my older years.
The first is a dedicated, non-negotiable time for prayer. Since I am actively participating 24-7 in raising my 10 year old grand daughter, I still do all the active things I did when I raised my own now grown children, plus some. The catch (which is my lame excuse) is that with age, I just can't get up any earlier than I do and have a reasonable day, so my prayer time is, shall I say, more fluid.
Another easy connection is being sure to make the time to walk in nature. For me, being in the woods or by a body of water provides me an instant visual and auditory connection to the Lord. I just have to get there again and more frequently, all by myself.. or just take a stroll in my beautiful neighborhood.
Jesus tells us that he knows us. Thank God! He plows through my excuses and shows me ways to find alternatives. I am still loved unconditionally...whew, even if I am stuck in a rut or worse!
It occurs to me that the Lord clears away any obstacles each week (and has for over 20 years) so that I can make the time to listen to him thorough the Sunday Scriptures. That has been a constant for me. It is the way that enables me to attempt to follow him.
Although I sometimes yearn for the more identifiable face to face ministries of long ago, I now recognize that reflecting on and writing about the Sunday Scriptures has been my lifeline to Jesus through the years. Perhaps that lifeline is my new beginning, a place to expand my understanding of who God really is and share it with this wonderful grand daughter who has a desire for such things (as well as ice cream!) Perhaps reflecting on the Sunday Scriptures is your starting point or restarting point as well... for ?????
Blessings,
Dr. Lanie LeBlanc OP
Southern Dominican Laity
******************************************************
******************************************************
Fourth Sunday of Easter May 12 2019
A.K.A. Good Shepherd Sunday
Acts 13:14, 43-52; Responsorial Psalm 100; Revelation 7:9, & 14-17; Gospel Acclamation John 10:14; John 10:27-30
Perhaps you've noticed the readings for these seven Sundays of Easter are from the same three books. The first reading is always from the Acts of the Apostles. The second reading --except for the First Sunday of Easter – is from the Book of Revelation. The Gospel for the Sundays of Easter is from John's Gospel.
The readings from Acts carry a lot of excitement. The Apostles and Disciples, in those first days after the discovery of the Risen Jesus - now The Christ -- could not contain their joy. Their excitement boiled over and attracted converts to the Way of Jesus. Even when the Apostles were called before the Sanhedrin they did not become afraid or stop telling the story of Jesus. In this Sunday's first reading, we learn about the first missionary journey of Paul and Barnabas. Their first telling of the story of Jesus as the Messiah starts with the Jews. They participate in the Sabbath synagogue service. The following Sabbath they preach, announcing that Jesus is the Messiah. It seems their message struck the leadership of the synagogue as competition. While many of the members of the synagogue believed, the leadership stirred up not only some of the synagogue members but also prominent persons in the city. It seems that Paul, through this incident, became aware of his calling to preach to the gentiles. For many Jews Paul's understanding challenged the long history of their community. For centuries these Jews had preserved their faith, their traditions, and their focus on the Law of Moses. They built their culture on that tradition. Paul's message of the suffering Messiah and of God's great love for his creation was a bridge too far for their practiced faith. This is so contrary to the experience of the Jewish people whose history is filled with trouble and servitude. In a sense the synagogue leadership rejected the Good News. Perhaps there is a warning here to us as well that we ought not close ourselves to the movement of faith in our time and place as it comes into contact with the dynamics in the secular world. There more treasure hidden in our Scriptures and in our living out the gift of faith that has been given us. That treasure is without limitation. Our living continually plumbs the depth of the richness of God's revelation. God continually calls all peoples to union with the Trinity as all peoples experience God's interventions even in our own times.
The readings from Revelation are another part of this Easter Story. John - not the evangelist – has been exiled during the persecution of the emperor Domitian. He is condemned to hard labor in the mines on the island of Patmos. Domitian pushed the cult of emperor worship to a greater intensity than ever. Even the Jews who under earlier emperors were excused from worshipping the emperor lost their exemption. There were martyrs not only among the Christians but also the Jews and even among pagans who refused to worship the emperor because of their faiths.
On the island of Patmos John had visions regarding this terrible persecution. These visions were meant to be an encouragement to Christians. It was a terrible time and many thousands were executed for denying the divinity of the emperor. At first converts to following Jesus are full of enthusiasm and energy. There often follows a cooling of fervor. John's vision tells us this loss of enthusiasm provides an opportunity for those who would use this loss of spiritual energy to twist the message of Jesus's teaching, his healing, and the pouring out of his life – including his life's blood. By manipulation of the message of Jesus based on the witness of the apostles there were those who sought to gain power, wealth, or just fame. The truth of Jesus' life, work, origin, and passion, death, and resurrection was presented not as a hope for fullness of living but as a way of marketing for those teachers of their privileges. If we listen carefully and apply these Easter readings from Revelation we'll be brought to an understanding and a deeper faith about human life and our place in it. The Kingdom of God established through the Messiah is a work in progress. It is not that human suffering and pain is eliminated through the teaching, healing, and suffering of the Christ. The message insists that there is more to living than the moment. Suffering and death are not the end but only a necessary transition to the fullness of God's kingdom. Persecution and even execution is not the end of persons. There is more. Martyrdom can be bloody or it can be naggingly persistent and seek to rob us of the energy of the Cross and the Resurrection. Life is a time of growth into the Kingdom. Life has meaning and purpose beyond comfort, beyond power, beyond wealth, and clearly beyond notoriety.
In this Sunday's reading from Revelation, John has a vision of a great number – uncountable he insists. These are people of all colors: these are people of all languages: these are people of all genders: these are people of every nation, every political structure, of every race. The diversity of this crowd overwhelms the vastness of a plain that extends beyond the far flung horizons in every direction. Who are these people? What are they doing gathered, called together? They have come together because they have endured the times of great distress, both personal and communal as followers of the Christ. Imagine yourselves at the highest point in a huge athletic arena. Look out around, below, and across from yourselves. See the many colors of skin: see the many hues of garments and styles. Listen closely to the murmur of the crowds sharing, greeting, encouraging, praising, and worshiping the Creator, the source of the Universe and its possibilities. Lift up your voices with those others in joyful song of harmonies that only a billion – no, multi-billions -- can raise. This shout of joy rises from every age, from every nation, from all persons and from all the bits and pieces of creation. The constant uproarious interchange shakes even distant mountains . Even the clouds overhead seem to dance with the joy of this uncountable crowd. The stars in the heavens seem to dance with the excitement of the multitude. Who can imagine such a gathering and not discover their hearts lifted with hope; their faith in the One God of three Persons confirmed by the presence of so many who believe? Who can imagine such a joyful noise and not be moved to sharing in it? Take a moment of heavy silence and picture, and listen, and love what your imagination, your spirit experiences because of this reading.
John the Divine, the author of Revelation lived in a time of awful persecution. Domitian insisted that everyone worship him; offer his image incense as the price of continued life. It was the worst persecution of the Roman Emperors. John, in exile, forced to work in the mines at hard labor, writes his visions as encouragement to the persecuted. All this terror, all this pain, all this hardship will pass. Its lifeline is limited and will die as will those who claim divine power, wealth, or influence. Those who endure and preserver in the faith with hope and love for the Risen One will wash their garments in blood of the Lamb. We should note John speaks of those witnesses as washing their garments. It is not that the garments are washed for them.
When we hear about the blood of the Christ as the solvent that cleans, renews, and brightens these ordinary garments we should not limit the blood outpoured to His blood poured out on the Cross, or at the scourging pillar, or on his sorrowful way. There's more than the pouring out of blood in suffering. Jesus poured out his life in another way. His work of preaching, healing, and dialogue with his disciples brought them to a fuller understanding of God and wonder and meaning of human life. This also is an outpouring of his life, of that which gives life to the parts of the body. That is the life blood of Jesus The Christ.
It this Jesus the Christ is our model for living. We are followers of the Christ when we pour out our lives in the service of others. This doesn't mean that we must leave home and head for third world countries. Only a few have the gifts to travel to foreign lands to spread the message of the Way. Most serve their families, their local communities and their state and national community. We serve God's creation when we stand in union with the family that is our parish. Our faith is weakest when we live faith in religious isolation, focused on personal obedience to laws and rituals. When we focus on devotion as the sole relationship with God and humanity we tend to focus on ourselves. In the gospels we see that Jesus went away in private to pray after working for those who came together to learn, to be healed, and to be saved. Prayer follows on service and derives its energy from that service. Our faith is in the God of Three Persons. That faith insists that our faith is a faith of community, of an assembly called together.
The gospels of these Sundays of Easter are from the gospel of John. In these readings we learn of Jesus' teaching to the disciples. We should listen closely and find ways of applying those teachings to the moments of daily living. The more we attend to His words, the more we will find ourselves in a stronger, more positive, more loving relationship with our families, our community, our state, our nation, and the world. In doing so, our relationship with God grows exponentially. For each person is called to holiness. Each of us is invited to sainthood. That is the message of Easter and of these seven Sundays of Easter. That is the message of what being a sheep that hears its shepherd. What the Shepherd has endured, what the Shepherd has done, and where the Shepherd has gone is also our destiny as his sheep. What a great celebration we will enjoy as we join the un-countable flock of those who have washed their robes in the Blood of the Lamb!
Carol & Dennis Keller dkeller002@nc.rr.com
******************************************************
******************************************************
FOLLWING JESUS, OUR GOOD SHEPHERD: 4TH SUNDAY EASTER C
'The sheep that belong to me,' Jesus says, 'listen to my voice.'
Have you ever lost a dog, a cat, a parrot, or other pet, and were at your wit's end searching to find it? I ask this because it relates to what this Good Shepherd Sunday is about.
In Australia it's not easy to relate easily to those sheep mentioned in the gospel. Sheep there are so many that Australians tend to view them just as smelly and dumb animals. But for the shepherds of Jesus' day they were more like the pets in our day so dear to us. Alone with them in the fields shepherds would talk to them (perhaps for lack of anyone else to talk to), and would call each one by name out of their common holding pen. They would then respond to the sound of their own pet name and follow their shepherd into the fields for grazing.
The bond in those days between sheep and shepherd is one of many different pictures we can explore to understand better a most basic need of us humans. This is our need for intimacy, for being connected to others and accepted as an individual, and even as someone special and unique. We also share a need for intimacy with God in a close, continuing loving relationship.
Another significant connection with the gospel picture of sheep and shepherd is the 'weakness' generally associated with them. Jesus himself understood this connection when he said that he was sending his disciples out like 'lambs among wolves' (Lk 10:3). In our First Reading from Acts today we hear of Paul and Barnabas and their bold attempts to tell the good news of Jesus, and how they were rejected and thrown out of the city of Antioch. But as they walked out of town, so the Reading tells us, perhaps to our surprise, they 'were filled with joy and the Holy Spirit'.
What all this says to me is that the story of the Good Shepherd and the call and responsibility we all have to shepherd one another centres around the different kind of power that Jesus has taught us about. The power of Jesus was not the power of domination, the power to bully or boss people around. That kind of power is illustrated by the story of the captain of a destroyer who saw a light ahead and notified the radio signalman to order the approaching ship to change its course 20 degrees to the south. A message came back: 'You change your course 20 degrees to the north.' The captain sent another message: 'Change your course . . . I am Captain Cunningham.' The message came back: 'Change your course . . . I am Able Seaman 3rd class Jones.' Finally, angry and determined, the captain sent a third message: 'Change your course right away. I am a destroyer.' The message came back: 'Change your course right away. I am a lighthouse.'
As we focus on pastoral care of one another today, Good Shepherd Sunday, we are deeply aware of how few people nowadays are saying that they feel drawn to the priesthood and religious life. I wonder if we, as Church, were to put more emphasis on relational power rather than dominant power, whether there would be more persons wanting to take up that kind of shepherding relationship.
With ever larger parishes there is no way a priest can truly get to know every parishioner. The challenge has come, then, more than ever before, for all parishioners to be shepherds to one another. This involves the effort, first of all, to learn the names of more and more people in the parish each week, and to work at remembering their names and greeting them by name.
This is to imitate the Good Shepherd who knows each of us by name, and calls out to each of us by name. Surely the more we strive to build a family relationship in the parish, the more we will get to know the ones who would stand out as good shepherds. We might then quietly and gently approach them to take on that special leadership role in the Church that being a religious or a priest involves.
The benefit of being in a shared loving relationship with Christ our Good Shepherd is illustrated powerfully in our Second Reading today from the Book of Revelation: 'They will never hunger or thirst again; neither the sun nor scorching wind will ever plague them, because the Lamb who is at the throne will be their shepherd and will lead them to springs of living water; and God will wipe away all tears from their eyes.'
As we approach the table of our Good Shepherd today for Holy Communion, let us ask him to lead us to springs of living water by giving us an experience of a deeper and closer relationship with him personally, and with all our brothers and sisters gathered with us around the same table, his own table.
"Brian Gleeson CP" <bgleesoncp@gmail.com>
******************************************************
4.
******************************************************
******************************************************
******************************************************
Volume 2 is for you. Your thoughts, reflections, and insights on the next Sundays readings can influence the preaching you hear. Send them to preacherexchange@att.net. Deadline is Wednesday Noon. Include your Name, and Email Address.
-- Fr. John
---
-- ABOUT DONATIONS --
If you would like to support this ministry, please send tax deductible contributions to Jude Siciliano, O.P.,
Make checks payable to: Dominican Friars.
St. Albert Priory, 3150 Vince Hagan Drive, Irving, Texas 75062-4736
Or, go to our webpage to make an online donation: http://preacherexchange.com/donations.htm
-- REGULAR INFORMATION ---
To UN-subscribe or Subscribe, email "Fr. John J. Boll, O.P." <preacherexchange@att.net>
-- WEB PAGE ACCESS --
-- Go to http://www.preacherexchange.com Where you will find "Preachers' Exchange," which includes "First Impressions" and "Homilías Dominicales," as well as articles, book reviews and quotes pertinent to preaching.
-- Also "Daily Reflections" and "Daily Bread." and many other resources.
A service of The Order of Preachers, The Dominicans.
Southern Dominican Province, USA
1421 N. Causeway Blvd., Suite 200 Metairie, LA. 70001-4144
(504)837-2129 Fax (504)837-6604
---
We keep up to six articles in this archive. The latest is always listed first.