Contents: Volume 2 - Easter Triduum April 2019
---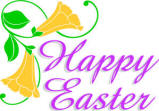 1. -- Lanie LeBlanc OP
2. -- Carol & Dennis Keller
3. -- Brian Gleeson CP
4. --
5. --(Your reflection can be here!)
*****************************************************
*****************************************************
Triduum 2019
My 10 year old grand daughter is now old enough to be an altar server. She has volunteered to serve at several Holy Week services, but we settled on Palm Sunday, Holy Thursday, and Easter morning. I am spending a lot of time with her at such "practices" beforehand. Previewing the rituals touches my soul and watching her deepens those feelings. Since the actual rituals are long enough and complicated enough to warrant a "practice", it is not uncommon to get lost somewhere between rapt attention and getting fidgety. I'm not talking about just the young servers here, but we adults, including the sacristans and parishioners, and maybe the celebrant, too!
We are often encouraged to "find ourselves" in one of the many characters in these important Holy Week events as a way to deepen the spiritual experience for us. What came to my mind as I watched both the fervor and distraction in the many physical movements at the practices was not limited to one character as in the readings, but rather an overall view of our path along the Christian journey. For all of us, there are times of steadfast commitment, times of just plain apathy, and times when we need to redirect just before or just after stumbling or going the wrong way!
Sometimes we blast ahead with great enthusiasm and other times it feels (and looks) like we are somewhere else at the time. We become excited or need a helping nudge or song or bell to pay attention. We go through many changes, some to our liking and some in confusion.
The Good News is that there is always a Guide, in life and, perhaps, through lots of practices. No matter how often or how far we wander, the Lord is there, steadfast in encouragement and faithfulness... and with unconditional love. That is what really came to mind after I got lost in remembering being at those very services before, listening to different voices, enacted in different parishes, over many years, and in the many different stages of my life. I am blesesd to witness my young grand daughter at the beginning of her journey, filled with the enthusiasm of someone who knows the Lord and wants to serve at every opportunity, knowing full well that preteen, teen, and young adult challenges are not far behind.
I pray for her and for all who have known that glorious feeling of the first time we realized the Lord loved us individually and we loved the Lord. I pray for her and for all, knowing that wanderings happen. I especially pray in thanksgiving and gratitude for the unconditional love of our Lord and Savior, poignantly shown and remembered this Triduum, for us all, "no matter what".
May our hearts rise in joy with the Risen Lord!
Blessings,
Dr. Lanie LeBlanc OP
Southern Dominican Laity
******************************************************
******************************************************
Easter Triduum 2019
Holy Thursday April 18 2019
Exodus 12:1-8 & 11-14; Responsorial Psalm 116; 1st Corinthians 11:23-26; Gospel Acclamation 13:34; John 13: 1-15
Here comes the summary of the life and ministry of Jesus, the prophet, the one promised, the hope of the nations and – this is the most difficult thought to think – our brother! The scene has been set. For about three years this accomplished carpenter (he didn't need to become a preacher and healer to earn his living – he has set up shop in a thriving city of Capernaum had traveled through Galilee, Samaria, and Judaea. His message found resonance with the ordinary people. For those in power and wealth his preaching was too simple, too uncomplicated, too mundane for it to have come from God. It denied the tradition of believing that prosperity and power were God's rewards for being good. He embraced those with disease, with social unacceptability, and with poverty and found for them a place in communities. His message was of hope for each person. His teaching destroyed social conventions that established social classes. Those who enjoyed the fruits of their efforts were pushed toward understanding the historical experience of the Hebrew nation as more than the building of a nation. The journeys of Jesus in the land promised to the patriarchs were journeys of meaning and purpose. Even the most rejected human person could be lifted up – even a dead person could come to life.
If we look closely and get over thinking of God as utterly transcendent we might find in the stories pulled together by the evangelists from the life and work of Jesus – we might just realize that God is right at our shoulders. God is with us at our tables, at our work benches, in our classrooms, on the streets, in the fields of our endeavors. And in that awesome presence we might come to realize just how very wonderfully made we are.
Here on this Holy Thursday, more accurately known as the Day of the Lord's Supper, we find ourselves at a banquet table. This was the celebration of the freeing of the slave nation of the Hebrews from Pharaoh. This unnamed despot is unnamed with intention. The Pharaoh is the one who enslaves us; ties us down, and makes us grovel in our pain and our guilt. We are forced to do the impossible – make bricks without the necessary straw, deny life to our boy-babies, and suffer from the cruelty of overseers. Pharaoh still lives and rules in our time – always has and likely always will: well only until the Kingdom of God is fully established on the universe created by the Creator.
But here at this table this night we receive what we desperately need. We receive the bread of life and the cup of blood that will flow through the hearts, minds, bodies and spirits of our community. For in the sharing of the Bread and the Cup we become ONE. This is our hope: this is our glory: that we are no longer alone in this journey. We walk with all those in our assembly. We share with them our gifts – brought to the altar and transformed just as our lives are transformed when we share in the Bread and the Wine that is the Body and the Blood of the Lord.
Jesus spent his ministry to the world teaching and healing. In this celebration the evening before he gave his very all, he gave us what he is. And he tells us, instructs us, encourages us to "do this in memory of him." Have you ever wondered what the "this" is that he asks us to do? If we think it is only the sharing of Bread and Wine transformed, then we miss the point. The "this" is more than that. It encompasses the whole of the Life of Jesus. It is our model. We are to share the bread that is the fruit of the earth and the work of human hands. We are to share the cup that is the fruit of the earth and the work of human hands. That is the prayer of blessing the head of the household prays at the Passover meal. That is the prayer with which the presider at our Eucharistic celebration prayer in our stead – those are the prayers over the gifts brought to the altar. Those gifts given from the work of our hands and the fruitfulness of the earth are to be transformed into the Mystical Body of the Christ. That Mystical Body unites us and makes us one.
How does it make us one? The oneness of our assemblies comes from the incredible and all-embracing love of the Creator for us. It is that Creator who fashioned the universe and make it productive, made it bear fruit. And that Creator fashioned humanity in his image and likeness. And the Image, that Likeness is the unity that holds together the universe and our humanity. When we eat the bread and drink the cup we become one with each other. There can be no hatred, no conflict, no violence among us when we are one.
What this comes down to is this: God created all that is and humanity itself in a very special way. There is in humanity an incessant drive to work, to create as God creates. When that creative spirit is warped into a denial of the Creator and the image and likeness of each other, we find hatred, we find violence, and we find unhappiness and disease. When we live – when we "do this in memory" of him, we find peace, harmony, fruitfulness, and a great joyful peace.
Let us come to the table of the Lord with our Brothers and Sisters and become one in the Love of God. For Jesus has taught us how to live, heals us of what disease we've allowed ourselves, and now feeds and nourishes and meals us with the food that is himself. What joy should flood our hearts! What peace should quiet our restless spirits!
---
Good Friday April 19 2019
Isaiah 52:13-53:12; Responsorial Psalm 31; Hebrews 4:14-16 & 5:7-9; Gospel Acclamation 2:8-9; John 18:1- 19:42
We cannot stand as observers of the events we commemorate. In the liturgies of the high holydays of the Jews there is the understanding that when they commemorated the earth shaking events of their history, those events were once again real and present. God once again acted. Those celebrations were not mere memories of past events. Those events happened once again. In this renewal of the events there came the possibility of a greater understanding and commitment of the people.
So it is with our memory of this second leg of the stool of our faith. This is part two of the three part liturgy of God's intervention on behalf of humanity.
St. Paul and St. John in his gospel speaks of the "sin of the world." It is a singular sin; one that captures and holds with it all that is wrong and sinful with humanity. What is it? Some would call it the blame game. We incessantly find victims to bear the crosses of pain that writhe deep within our spirits. When we come to understand that our Father loves us, we no longer need to hide in shadows. We no longer need to blame our misfortunes on other races, on immigrants, on those who are different from us, and even on our families – our mothers and fathers, our brothers and sisters.
A simple way of looking at Good Friday is this. Jesus bet his life that love would conquer death itself.
Tomorrow we'll know whether his bet was right.
What is there that can remove from us the despotic control of Pharaoh? What can disentangle our living from the anxieties, the competition, and the inability of prosperity, fame, and control to satisfy our hungry hearts? How do we come to realize the meaning and purpose of our living? How can we find peace, joy, and fullness of life? When we find that all else has failed to satisfy us, we come to Calvary, beaten, rejected, mocked, and crushed. There we find the One who understands us because he is one of us. And yet he is God. And in the torments heaped upon his body by those who refuse to understand, who refuse to love, who refuse to let go of their own torments. They infect others with their violence, their cruelty, and their lies and wreak havoc on every part of God's creation, especially the creation in His image and likeness. Were we able to bet our lives on the victory of love over hatred, we'd have begun to live with the fullness of Jesus' victory over death. This memory in this second part of our memorial of Jesus is essential for our living fully and with meaning and purpose.
---
Holy Saturday April 20 2019
Genesis 1:1 – 2:2; Responsorial Psalm 104: Genesis 22:1-18; Responsorial Psalm 16; Exodus 14:15:1 – 15:1; Responsorial Canticle Exodus 15; Isaiah 54:5-14; Responsorial Psalm Isaiah 12; Baruch 3:9-15 & 32 4-4; Responsorial Psalm 19; Ezekiel 36:16-17 & 18-28; Responsorial Psalm 42; Romans 6:3-11; Luke 24:1-12
The vindication of the life and ministry of Jesus is remembered and made present in the events of this evening. The seven readings before the gospel are a road map of the intervention of God to lead humanity forward into a growth toward union with God. Jesus' bet that love is stronger than death is won. There is no more complete lesson than this: love triumphs over all that is self-centered, all that is idolatry, all that is divisive, all that denies value and dignity to any of God's creation. Spring is come – there is a future for creation and for those responsible for making it fruitful and dignified! He is Risen, He is Risen. He knew that love is stronger than death: he understood that the life of God is more powerful than the terrors of aggression, of untruth, of hatred, and most certainly of death.
Let us Rejoice, Alleluia, Alleluia, Alleluia. May peace break out: my joy lift us up: may we clasp the hands of our brothers and sisters, of our neighbors and friends, and unmake the anger, violence, and distrust that separate us from those who were before God's love our enemies.
May we rejoice today and forever! For today God's Son has been anointed by the Spirit and has become the Christ longed for. The centuries upon centuries of those who sought God have been raised up and their faith, their hope, and their charity have come to fruition. Let us rejoice!!
---
Easter Sunday April 21 2019
Acts 10:34 & 37-43; Responsorial Psalm 118; Colossians 3:14; Gospel Acclamation 1st Corinthians 5:7-8; John 20:1-9
What is there to say? Mary Magdalen and other women came to the tomb expecting to anoint a body torn and mutilated. Instead they were the first to understand, to believe, and to rejoice with hearts filled to bursting. Just as legend and belief has it that it was a woman who first understood and learned to choose between good and evil, so it is women who first realize that God has anointed his son as the Christ and that he is alive! The Kingdom of God has begun. Let us rejoice and realize we are saved from the evil that we've allowed entrance into our spirits. We are released from the despot who rules the world, the tyrannical Pharaoh. May we no longer bake bricks in the hot sun for the glory of Pharaoh. Let us instead build up the kingdom of God that is energized by the Spirit of God. That Spirit has through the Son conquered sin and death: we no longer need hide our guilt by blaming others. We are free to admit our faults and know that our God loves us even so. We are released from having to protect ourselves from guilt and from violence and from hiding our faults to protect our dignity and worth. When Jesus accepts death he loosed those chains and we can allow ourselves to understand our need for his presence. We are lifted up by the love of Jesus which allowed him to accept even death so that it could be conquered and overcome.
We have hope. We rejoice as does the farmer at the coming of spring when the earth once again becomes fruitful and filled with life. Let us rejoice! Let us resolve to accept the love of God in our hearts and listen intently to his words and reach out for his healing. Let us grow in the love of God and discover in our lives the Kingdom of God. The promise of this Resurrection is for us the hope for a better life now, here in this place. We are replanted in rich soil and encouraged by the Sun that is God, and watered by the Spirit whose energy lifts us up into newness of life.
Easter is about living a full life buoyed up by the incomprehensible love of God. Who is not delighted? Who cannot be excited at the prospects of newness of life? Who cannot be energized to love even our enemies on this bright and brilliant day that is filled with the Light of the Christ?
Carol & Dennis Keller dkeller002@nc.rr.com
******************************************************
******************************************************
RISING WITH JESUS TO THE NEW LIFE OF EASTER
When my father died quite suddenly when I was in Belgium studying, my mother wrote that she was devastated. and that her life would never be, and could never be, the same again. All of us, facing the death of someone we love face a horible and indescribable loss, along with feelings of absence and emptiness. One sometimes hears grieving people say: "I'm simply gutted."
For some persons, their feelings of loss are so great that they actually deny what has happened. They think they hear the footsteps of their loved one on the path outside or coming down the stairs, or turning the key in the front door.
When Mary Magdalen goes to visit the tomb of Jesus, it's very early on Sunday, the first day of the week. It's still dark but there's enough light to see that the stone has already been moved from the entrance to the tomb. But she is not in any kind of denial. She expects to come face to face with death. Not for a moment does she kid herself that Jesus is no longer dead. Instead, surely persons unknown have stolen and hidden his body, and will not let him rest in peace.
She talks about her experience to Simon Peter and the anonymous Beloved Disciple. Together they race to the tomb. When Peter enters the tomb, he sees at first only the burial clothes. But when the disciple Jesus particularly loved enters the tomb he sees more. He sees what faith sees. Jesus is not dead but alive. Maybe he has figured out that if people had stolen the body they would not have taken the trouble to roll up the burial clothes. More likely, it's simply his belief in the greatness, goodness and uniqueness of Jesus that leaves him convinced that God would not and could not leave him for dead. In any case we are told simply that "he saw and he believed".
What we are celebrating today in the resurrection, then, is first of all the power of God's liberating love for his dear Son. His resurrection is God the Father's answer to all those wicked men who murdered Jesus on the cross, and expected him to stay dead and buried forever.
In raising Jesus from the dead, God raised and revived every story Jesus told, every truth Jesus taught, every value Jesus stood for, every choice Jesus made, and every purpose he pursued. Everything about him and his history was given new life, new meaning, and new relevance.
So the resurrection of Jesus is not an hysterical invention by people who refused to accept the death of their Leader. After all, his first followers were simply not expecting it. So much so that when they caught sight of him alive again they were gobsmacked. They could hardly believe their eyes and ears. But they had to accept the plain fact that there was Jesus, raised in his body, alive and well before their very eyes, and that all this had happened through the unbounded power of God's love for his Son.
What we are also celebrating today is our resurrection from the dead, our resurrection from deadly deeds, or at least our resurrection from anything less than the best, the most honest, the most authentic, the most generous, and the most loving ways of living our lives. We are recognising, in fact, that not only is Jesus Christ alive now in himself, but he is also alive in us - alive in us through the presence, power and action of the Holy Spiriti, his second self.
After all, It was through the Spirit within him that Jesus "went about doing good and curing all who were in the power [of evil]" (Acts 10:38). It is through that same Spirit, coming from our Risen Lord, that you and I can hope and expect to think like him, act like him, live like him, die like him, and rise like him.
So, here and now on this Easter Day, let us encourage one another to respond to the power of the Holy Spirit among us by renewing our baptismal promises and renewing them sincerely and enthusiastically. Let us reject darkness, evil and sin in every shape and form. Let us promise to follow Jesus in a life of light, goodness and love, a life shaped by his own example. So, with trust in the mighty Spirit of Jesus within us and among us, let us here and now renew our Baptismal Promises, and renew them loudly and clearly!
"Brian Gleeson CP" <bgleesoncp@gmail.com>
******************************************************
4.
******************************************************
******************************************************
******************************************************
Volume 2 is for you. Your thoughts, reflections, and insights on the next Sundays readings can influence the preaching you hear. Send them to preacherexchange@att.net. Deadline is Wednesday Noon. Include your Name, and Email Address.
-- Fr. John
---
-- ABOUT DONATIONS --
If you would like to support this ministry, please send tax deductible contributions to Jude Siciliano, O.P.,
Make checks payable to: Dominican Friars.
St. Albert Priory, 3150 Vince Hagan Drive, Irving, Texas 75062-4736
Or, go to our webpage to make an online donation: http://preacherexchange.com/donations.htm
-- REGULAR INFORMATION ---
To UN-subscribe or Subscribe, email "Fr. John J. Boll, O.P." <preacherexchange@att.net>
-- WEB PAGE ACCESS --
-- Go to http://www.preacherexchange.com Where you will find "Preachers' Exchange," which includes "First Impressions" and "Homilías Dominicales," as well as articles, book reviews and quotes pertinent to preaching.
-- Also "Daily Reflections" and "Daily Bread." and many other resources.
A service of The Order of Preachers, The Dominicans.
Southern Dominican Province, USA
1421 N. Causeway Blvd., Suite 200 Metairie, LA. 70001-4144
(504)837-2129 Fax (504)837-6604
---
We keep up to six articles in this archive. The latest is always listed first.