Each week we are posting General Intercessions for the upcoming Sunday liturgies by Msgr. Joseph Masiello, retired pastor of Holy Trinity Parish, Westfield, NJ. These intercessions are based on the assigned scriptures, the liturgical season and current events.
---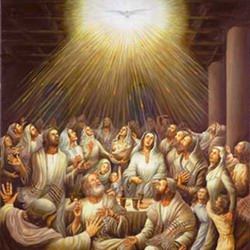 PENTECOST SUNDAY
CELEBRANT: Gathered in this special place to celebrate Pentecost, we pray, in the unity of the Holy Spirit, for our needs and the needs of all.
READER: Please respond, "SEND FORTH YOUR SPIRIT!"
1. Upon the leaders of the Christian churches, especially Pope Francis: that they may, with urgency, guide us to a new unity as the body of Christ, we pray...
2. Upon the Church of N., its Bishop (and his assistant bishops), its priests and deacons, its religious, and all its people: that each may be moved by the Spirit to share generously their Faith, time, and talents, we pray...
3. Upon our nation and every nation: that dreams of peace and visions of justice may abound, especially in Ukraine and the too many other places where war and violence rage, we pray...
4. Upon the newly baptized of our community, those recently received into the Church, our youth and young adults confirmed this Easter season, and our First Communicants: that they may walk in faith and the Spirit of love all their days, we pray...
5. Upon all our community's 2022 graduates: that they may always use the gift of knowledge acquired through their education in praise of God and in service of family and friend, of neighbor near and far, we pray...
6. Upon all whom the Spirit is leading to the priesthood, the diaconate, religious life, or lay ministry: that they may respond generously to the call, we pray...
7. Upon those of us assembled here, as we conclude the Easter season: that the Spirit may send us forth as witnesses to truth, hope, and reconciliation, we pray...
8. Upon our service men and women, our First Responders, and our healthcare workers: that the blessing of safety may be theirs; and, upon the seriously ill in our community and among our family members and friends, (especially ______________): that they may rejoice in the healing touch of our God, we pray...
9. Upon those sorrowing for loved ones: that Easter's great hope may fill their wounded hearts; and, upon ______________, (and) all our beloved dead: that they may come to the fullness of Easter life, we pray...
CELEBRANT: Gracious God, you bless the church with the Spirit of your Risen Son that we may always announce hope to the world. Bless this gathering of your church, and renew our hearts in your love. We ask this through Christ our Lord.
---