Dear Preachers:
A review of the past couple weeks. On the Ascension we celebrated Jesus' return to his Father's side. Pentecost fulfilled Jesus' promise that he would not leave us on our own to struggle in a contrary world of rejection, indifference and outright hostility. Today we continue to celebrate the gift of the Spirit's faithful presence in our midst. As he promised, Jesus has not left us orphans.
Did I say "a world of rejection, indifference and outright hostility?" Yes, I did and that reality is what attracts me to Paul's counsel to the Roman Christians. It begins with a double reassurance. Paul wants to make sure that, as we undergo the trials that test our faith, we can be confident that we don't have to go through them on our own.
When Jesus walked among his disciples he was limited to the world in which he lived. Now he is, "our Lord Jesus Christ," a completely new creation, no longer restricted to place, time and culture. Nor is he just among a small group of Christians, but he is with all of us now. Like the communities Paul addressed, we face our own trials and opposition from the world.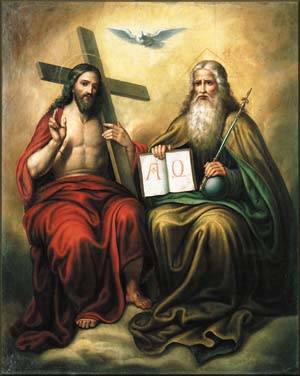 Jesus of Nazareth is the lens through which Paul interprets the Trinity. The way someone acts gives insight into who they are. Paul tells us, "Therefore, since we have been justified through faith…." That's where it begins for us, doesn't it? It is not about what we did to please God; but that God has first been pleased with us. God, in Jesus, has "justified" us. The term "justification" is the Bible's assurance that we have been put in right relationship with God. Because of what Jesus has done for us, we are now at peace with God and ourselves.

How do we get this "righteousness," or "justification"? Well, we can never earn it. Paul is quite clear about that. Instead, as he has often said, we are set right with God through faith. But it does not end there, in complacency. Instead, the faith we have received urges us to respond to our neighbor as Jesus did. Where does that take us? To the Trinity we celebrate today, not a doctrine, but a celebration of verbs – divine verbs. God, our Creator, has in Jesus shone the divine face of love and forgiveness on us. He has revealed God's unsurpassing, unlimiting and unearned love for us. He has also gifted us with the Spirit, the life force within us, that moves us to accept Jesus into our lives by faith and to respond to the Spirit's urging to be as Christ was in the world. See, it's about verbs – God's doing and our responding.

Paul teaches that being put right with God and acting like Christ in the world through the Spirit, fixes our gaze, not only on the present world, but on the future glory we will share with God and one another. Jesus realized that we need the reassurance our faith gives us. So at the Last Supper he promised us his Spirit to "guide you to all truth." Notice how frankly Paul speaks about "affliction" and "endurance." Clear-eyed Paul knew, from the trials he underwent for his ministry and what he saw in the suffering of Christians where he visited and preached, that we would need guidance, strength and endurance from the Holy Spirit.

But also note how reassuring he is about God's love being "poured out into our hearts through the Holy Spirit that has been given us." Once again, there is the promise of the glory we will one day have; we who have been gifted with the Spirit of Jesus that enables us to persevere through trials. Paul says we have "gained access by faith to this grace in which we stand." One translation for "access" is "safe haven or harbor." So, grace has provided us a secure place in God's presence as we face affliction because of our faith.

Paul's Christian communities faced persecution from their Roman oppressors and their own Jewish community. But more. It is clear from Paul's letters that Christians also suffered discord among their own ranks – about how to interpret the meaning of Jesus' life for their individual and community lives.

In the context of so much pain Paul is encouraging the Roman Christians to accept their suffering and see it as a proving ground for their faith and a sure sign that God has not abandoned them, but is still loving them and pouring out the Holy Spirit upon them.

We are celebrating Eucharist together today. Despite the awful scandals our Church has endured these past two, or three decades, we have reassurance in the Word, the Eucharist and our gathered community that God is faithful and has not left us, but can even enable growth during this time of testing. Isn't that what Paul told the Romans and is telling us now?... "affliction produces endurance, and endurance, proven character and proven character hope and hope does not disappoint."

While our modern minds might want it, Paul does not yield a definition of the Trinity. It was not till centuries later, in the face of Christological heresies, that the Church spent extended periods of time reflecting on the Trinity. Paul was speaking to Christians under trials to help them understand their identity and responsibility as followers of Jesus Christ. Here and elsewhere, he describes the basis for our faith and its consequences in the lives of Christians. We can talk about the Trinity in quite reasoned tones but, for Paul, the Trinity was up close, and very active each day as our Creator, Redeemer and Sanctifier.

Click here for a link to this Sunday's readings:

http://www.usccb.org/bible/readings/061619.cfm

The Church has repeatedly taught that we are justified not by our own works or efforts, but by the grace of the Lord who always takes the initiative.

—Pope Francis in, "Rejoice and Be Glad: Gaudete et Exsultate," (#52)

"...the love of God has been poured out into our hearts through the Holy Spirit that has been given to us."

Romans 5:5

Do you know the persons sitting around you in the pew at Mass today (family members not included)? There is one thing that I know about the Trinity--it is a loving RELATIONSHIP among Persons that make up one Divinity. It is also a loving relationship to which we are invited for participation. If that does not teach us about the importance of relationships in God's realm, nothing will.

In his Message for the World Day of Peace 2014, Pope Francis warns, "In his encyclical Caritas in Veritate, my predecessor reminded the world how the lack of fraternity between peoples and men and women is a significant cause of poverty[11]. In many societies, we are experiencing a profound poverty of relationships as a result of the lack of solid family and community relationships. We are concerned by the various types of hardship, marginalization, isolation and various forms of pathological dependencies which we see increasing. This kind of poverty can be overcome only through the rediscovery and valuing of fraternal relationships in the heart of families and communities, through the sharing of joys and sorrows, of the hardships and triumphs that are a part of human life." Meaningful relationships need love and attention, which takes time.

Furthermore, if we do not develop relationships with fellow members of our faith tradition, we have no hope of forming an active community of believers who can then work together to effectively "renew the temporal order" of the world (Vatican II Decree on the Apostolate of Lay People). Among the tasks of lay Christians, social action is preeminent (ibid 7). To state it another way, we cannot ever begin to achieve justice through social action without building loving relationships with other believers.

We live in a busy world. It is so easy to make excuses or to compartmentalize our life in lists, like – "Go to church on Sunday, back to work on Monday, party on Saturday." But are we really putting God first in our lives? Are we living the life we were created for? Because we were created for greatness. But greatness in God's realm is modeled in service. Jesus is our most excellent example. We have so many outreach ministries where you can share the love you have been given, your greatness, check them out at the bottom of:

http://www.raleighcathedral.org/social-justice-programs and give me a call.

---Barbara Molinari Quinby, MPS

Director of Social Justice Ministries

Holy Name of Jesus Cathedral, Raleigh, NC

Mini-reflections on the Sunday scripture readings designed for persons on the run. "Faith Book" is also brief enough to be posted in the Sunday parish bulletins people take home.

From today's Gospel reading:

The Spirit will not speak on [his] own,

but will take what [he] hears,

and will declare to you the things that are coming.

Reflection:

God is beyond our human capacity to know, but even before we reached out to God, God had already decided to redeem the world. God has taken the initiative, offered us grace in Jesus Christ and through the Spirit enables us to enter into relationship with God.

So we ask ourselves:
Do you ever pray to the Holy Spirit?
What occasion causes you to turn to the Holy Spirit in prayer?
POSTCARDS TO DEATH ROW INMATES
"One has to strongly affirm that condemnation to the death penalty is an inhuman measure that humiliates personal dignity, in whatever form it is carried out."
---Pope Francis
Inmates on death row are the most forgotten people in the prison system. Each week I post in this space several inmates' names and addresses. I invite you to write a postcard to one or more of them to let them know we have not forgotten them. If you like, tell them you heard about them through North Carolina's, "People of Faith Against the Death Penalty." If the inmate responds you might consider becoming pen pals.
Please write to:
Roger Blakeney #0033802 (On death row since 9/10/97)
Marcos Mitchell #9488288 (11/4/97)
Elrico Fowler #0134151 (11/14/97)
----Central Prison, 4285 Mail Service Center, Raleigh 27699-4285

For more information on the Catholic position on the death penalty go to the Catholic Mobilizing Network:

http://catholicsmobilizing.org/resources/cacp/

Also, check the interfaith page for People of Faith Against the Death Penalty:

http://www.pfadp.org/

"First Impressions"

is a service to preachers and those wishing to prepare for Sunday worship. It is sponsored by the Dominican Friars. If you would like "First Impressions" sent weekly to a friend, send a note to fr. John Boll, OP at jboll@opsouth.org.

If you would like to support this ministry, please send tax deductible contributions to fr. Jude Siciliano, O.P.

St. Albert Priory, 3150 Vince Hagan Drive, Irving, Texas 75062-4736

Make checks payable to: Dominican Friars. Or, go to our webpage to make an online donation:

http://www.PreacherExchange.com/donations.htm

1. We have compiled Four CDS for sale:
Individual CDs for each Liturgical Year, A, B or C
One combined CD for "Liturgical Years A, B and C."
If you are a preacher, lead a Lectionary-based scripture group, or are a member of a liturgical team, these CDs will be helpful in your preparation process. Individual worshipers report they also use these reflections as they prepare for Sunday liturgy.

You can order the CDs by going to our webpage:

www.PreacherExchange.com http://www.PreacherExchange.comand clicking on the "First Impressions" CD link on the left.
2. "Homilías Dominicales" —These Spanish reflections on the Sunday and daily scriptures are written by Dominican sisters and friars. If you or a friend would like to receive these reflections drop a note to fr. John Boll, O.P. at
Jboll@opsouth.org.
3. Our webpage: www.PreacherExchange.org - Where you will find "Preachers' Exchange," which includes "First Impressions" and "Homilías Dominicales," as well as articles, book reviews, daily homilies and other material pertinent to preaching.
4. "First Impressions" is a service to preachers and those wishing to prepare for Sunday worship. It is sponsored by the Dominican Friars. If you would like "First Impressions" sent weekly to a friend, send a note to fr. John Boll, OP at the above email address.
---
Thank you and blessings on your preaching,
fr. Jude Siciliano, O.P.

St. Albert the Great Priory of Texas
3150 Vince Hagan Drive
Irving, Texas 75062-4736
972-438-1626
---
Click on a link button below to view the reflection indicated.
(The newest items are always listed first.)