Dear Preachers: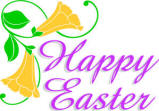 Over the next days and weeks we will be hearing resurrection and post-resurrection accounts. For this night I thought I would shift my attention to the Vigil's reading from Romans. While it isn't a resurrection account, in reality, all Paul writes is in light of the resurrection and Jesus' gift of the Spirit to his disciples. Paul proclaims and then elaborates on the consequences of Jesus' death and resurrection for those who have been united with Christ through baptism.
He tells us that through baptism we are no longer "in slavery to sin." Slaves cannot do what they wish, but must do what the master/mistress commands. Baptism has begun a life-altering shift in our lives. Paul knows that laying down more laws and regulations will not bring about new life for us; it didn't in the past and it can't now. He reminds us, and our past testifies, we are subject to sin's powerful influence on our lives – in big and small ways. A brief survey of this past week will reveal how sin has influenced our thoughts and deeds. On our own we cannot save ourselves from such a powerful and often subtle force.
He explains that when we were engulfed by the waters of baptism we were buried with Christ in death. When we emerged from the waters we were, "resurrected with Christ and to new life." He does not want us to put aside this new life and return to our old ways under the slavery of sin. "We know our old self was crucified with him." How appropriate for Paul to use this reminder of the cross. It is not only a reminder of Jesus' painful death, but a reminder to Christians that to accept Christ's way of life means to accept the way of the cross – spending ourselves, as Jesus did, for our neighbor in acts of kindness and self-offering. The way fo the cross is the way of new life for us.
Jesus' resurrection is a Passover. The Passover for the Jews was God's deliverance from oppression and death in Egypt to the promised land. Passover remembers and celebrates that gift of liberation. Jesus' work is understood in the context of the Passover, for he has delivered us from the oppression of sin and failure to new life through the passage of baptism. We are "dead to sin and living for God in Christ Jesus."
We are no longer under the captivity of sin. With Jesus our old self has been put to death. Through God's grace, the death and resurrection of Jesus Christ has destroyed the power of sin over those who have been baptized. In effect, sin has been made powerless. Paul isn't just speaking about individual sins. He views sin as an alien power, like death, that has dominion over human beings. Sin infects our social and political lives; our family bonds and our church as well. No, Paul is not just speaking of a person's sins, but of the corruption of all humanity, since the days of Adam and Eve. We might say it's in our DNA.
On our own, we humans are not able to choose not to sin. We are helpless. But God has opened the way for us through Jesus Christ's death and resurrection. In other words, sin has been put to death on the cross ("our old self was crucified with him") and we have new life, free from sin's power. Jesus has stood in for us all and sin has died on the cross with him. "For if we had grown into union with him through a death like his, we shall also be united with him in the Resurrection."
This new life was begun in us in baptism. As a result, our lives can demonstrate freedom from sin's power and show the fruits of the resurrection in our lives. Christ has been raised from the dead, if he hasn't, then we would all be left on our own, subject to our old enemies sin and death. Paul uses his usual strong images to get his message across. Those baptized into Christ have been "buried with him." We are united with him in his death, but also in his resurrection. Christ "raised from the dead, dies no more." The same for us: we died with him and now we are "living for God in Christ Jesus."
After reflecting on what a text is saying I like to ask, "So what? What difference does it make in our lives?" Paul invites us to let go of any claim and ambition to the world's powers, wealth, corrupt systems and standards by which we measure our lives. Even religious people are prone to this temptation and tend to measure our success as Christians by the numbers we attract, the finances we receive and, how our religion makes us feel.
This perspective ignores the implications of what it means to "die with Christ." Not only do we reap the benefits of his death: Christians are also called to die with Christ and then rise with him. This is the full implication of Easter: we are to take up the cross and follow Christ. The cross has meant forgiveness and resurrection for us; but Christian discipleship also means sacrifice. We look over the landscape of our lives and ask, "Where am I being asked to sacrifice my life for the good of others?" Label those places, "My cross." But also name them, "The cross of Christ" and know that in those places Christ accompanies us and opens a path of new life. Isn't that the core of this Easter celebration – from death comes new life?
It is appropriate at the Vigil service that we symbolize what Christ has done for us by blessing and then bringing the lighted Paschal candle into the darkened church. Without Christ our world is governed by the powers of darkness. But Christ has entered our dark world with his light. When the lighted Christ candle enters our darkened church worshipers at the vigil will bring their tapers to the candle and then pass the light throughout the community. It is dark without Christ, by his light we can see– Christ in our neighbors, Christ in ourselves. We are illumined by the light of Christ.
Click here for a link to this Sunday's readings: