FAITH BOOK
PALM /PASSION SUNDAY -C- April 14, 2019
LUKE 19: 28-40 (Procession with Palms)
Isaiah 50: 4-7; Psalm 22; Philippians 2: 6-11; Luke 22:14 -23:56
By Jude Siciliano, OP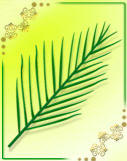 Mini-reflections on the Sunday scripture readings designed for persons on the run. "Faith Book" is also brief enough to be posted in the Sunday parish bulletins people take home.

From today's Isaiah reading:

The Lord God is my help; therefore I am not disgraced;
I have set my face like flint,
Knowing that I shall not be put to shame

Reflection:

Like Isaiah's servant, Jesus too has set his face like flint. Today he enters Jerusalem. God's faithful servant has set his face "like flint," to do what needed to be done for us. Because of Jesus' fidelity we have the grace to live faithful lives of service. We are willing to face challenges in a new setting, even though we have faced the same ones so many times before.

So, we ask ourselves:
What daily challenge do I face today in my attempt to live a faithful Christian life?

What and who give me the strength to do that? For this strength give thanks.
---
Click on a link button below to view the reflection indicated.
(The newest items are always listed first.)